How do we verify our influencers community?
We vet every influencer joining the platform in order to git the highest standard in the influencer marketing industry.
Our transparent requirements are the highest in the industry
To be eligible to Octoly, an influencer needs to fit different criterias according to the platform he's using (YouTube and/or Instagram). The eligibility criterias describe as follow:
Discover and connect with 12,000+ vetted influencers
More than 5,000 followers on Instagram and more than 1,000 subscribers on YouTube
Active and posting regularly on her/his account/channel
The influencer needs to be Beauty, Fashion & Lifestyle focused
The influencer needs to own a consistent and relevant engagement ratio on Instagram, according to her/his followers base. On YouTube, an influencer needs to have a good visibility ie. more than 1,000 view per video after 30 days
All posts and videos are original content produced by the influencer
The content produced by the influencer needs to be relevant to Octoly clients' industries and of high quality
We vet each applicant to the platform
After being declared automatically eligible to the platform, each applicant will then be reviewed manually by the Octoly team in order to verify the following criterias:
Content quality and relevancy
Engagement ratio consistency
No sign of low-quality follower base (fake comments on posts or irrelevant followers base)
Finally, after being declared as a potential fit to be welcomed within the Octoly community, we send each applicant to a third-party provider who is an Instagram partner that will analyze her/his account and provide us with data on the influencer's account from the Instagram API.
Among the data received by this third-party provider, we register the accounts that met our audience quality standards, avoiding this way to register any influencer with an audience that might not be relevant for our clients.
It does not stop there! In order to maintain our influencer base to remain at this quality levels, we operate on a weekly basis random checks on our influencer base. Also, we require from our Instagram API partner updates on the already checked creators a new analysis each time her/his followers base demonstrates an increase of 20%.
ie. An influencer registered at 10k followers with a certain Audience Quality score will be checked again at 12k followers to ensure that her/his Quality score is maintained!
Camillegrandxo fits all the quantitative requirements for Octoly, getting a consistent engagement ratio on a Lifestyle content produced on a daily basis.
This anonymized influencer, despite a quantitative fit to Octoly's criterias and a relevant content, does not have the required audience quality scores provided by our Instagram-approved partner.
We ensure the quality of content produced every day through Octoly
On top of building the most qualitative influencer community, we also strongly focus on providing the best tools and tips to enable the creation of high quality content.
We give the best tips to the influencers
On the influencer side, one of our key missions is to give them all the tools and resources they need. That includes as well all the indications to produce the best reviews. On our blogs and on our Help Centers, we're regularly creative content in native language to provide influencers with clear guidelines.
From an order to its review, guidelines are always stated
From the moment when the influencer gets approved to the publication of her/her review, we stated the Octoly, FTC and your brand guidelines during all the order journey!
Your guidelines are reminded on your campaign page, on all the follow-up emails and also on the platform, when the influencer needs to check the status of her/his order or while publishing her/his review on Octoly.
Both your brand and Octoly guidelines are verified when the influencer will published review. We're checking the presence of the needed hashtags (both for your brand and compliancy), the given promo codes and the product link!
The guidelines are stated in various emails and on the platform, before and after placing an order or uploading a review! 👇
We encourage the influencers to stay at the highest level of quality
Within the Free Store marketplace for influencers, there are also certain rules that ensure the quality of the orders you're receiving. For instance, an influencer starts on Octoly with only 5 credits to spend on products - each order costs him one credit, and gets it back while uploading her/his review. This is why you are almost 100% assured to get one review per product sent!
Also, an influencer gets a deadline of around a month to upload her/his review on Octoly - if he doesn't publish on time, the order will be expired and the credit will be taken away.
Each review published on the platform could be reported by the brand - every time a review is flagged, we manually verify it and decide whether or not deleting the review. If the review is deleted, the influencer is notified and may have to do a new review. If this happens twice for the same order, the order will be expired and the credit will be also taken away.
In order to maintain a qualitative behavior on the platform, when an influencer has 3 orders expired, she/he will be disabled from Octoly.
We allow you to connect with the most relevant creators for your brand
On top of all the measures taken to ensure the quality of our platform, you can also - for each of your campaigns - target the right influencers for your brand, using your own criterias to define what audience could be the best fit for you!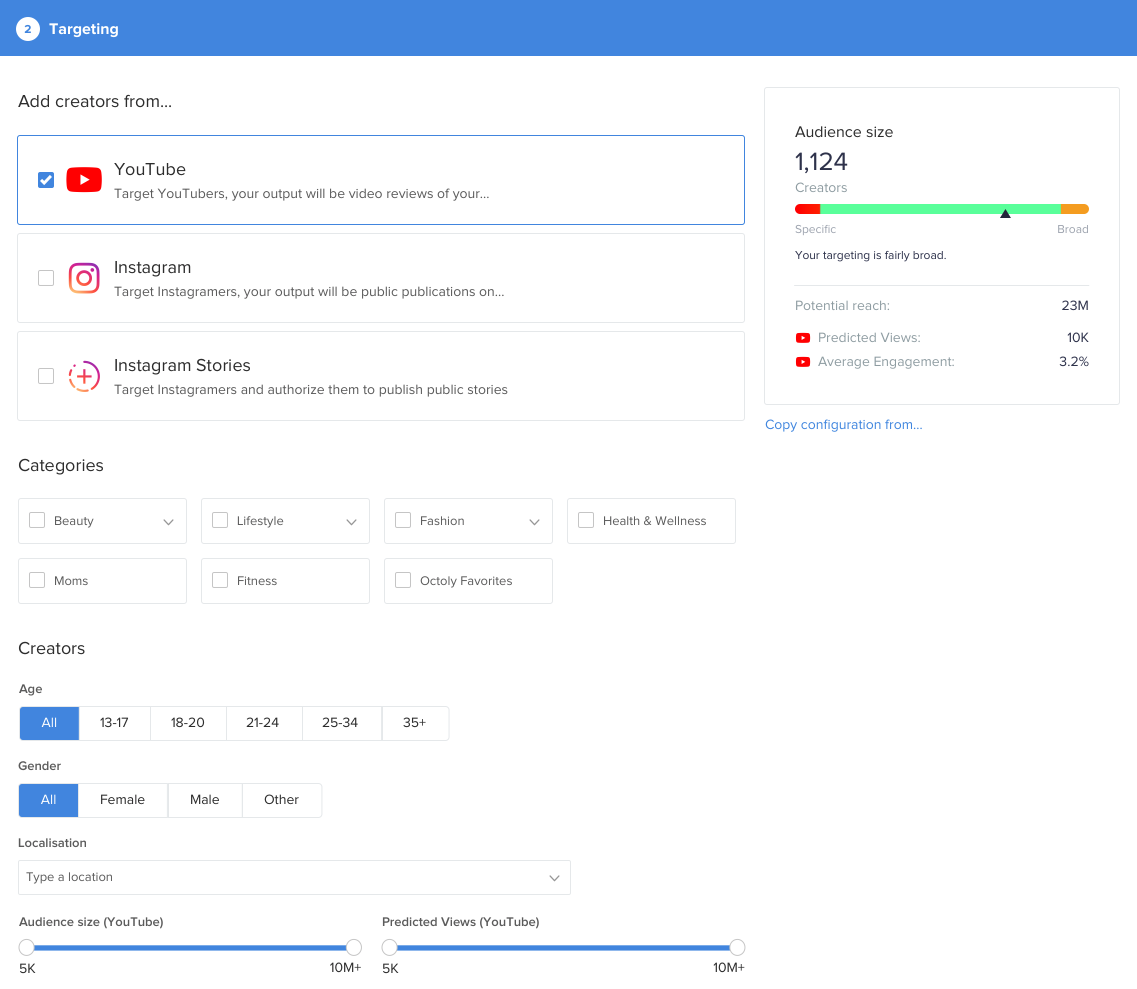 This way, you are sure to target only the best influencer for each of your need. Once your campaign is published, you start to receive orders from influencers targeted by your campaign - Octoly got you covered for this step as well!
For each creator applying for your campaign, you'll be able to review statistics about her/his account, such as her/his demographics (Gender / Age), her/his Audience location per Country, the recent reviews done on the platform and data about her/his behavior on the platform (# of reviews, average time to review, % acceptance rate by other brands, etc.). And if the influencer is applying to your product, it means that she/he already made all the steps listed before!